Graduation Speech
Hey there, this the The Voice voicing in on graduations!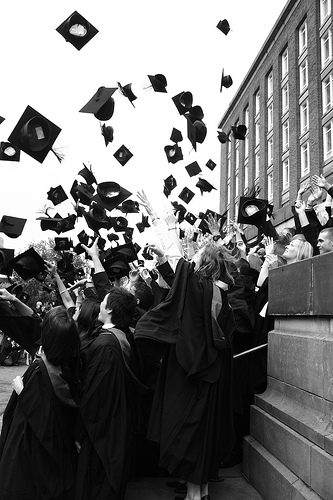 To all of our graduates, whether you were graduating pre-school, high school, college, or a rigorous PhD program, CONGRATS on a job well done. This message in particular is for those graduating from high school and above.
At your commencement address keynote speakers are quick to say "On this field (or in this hall) we have the future lawyers, doctors, and leaders. We have the future Albert Einstein's, the future Bill Gates', and the future Stephen Speilberg's."
WHOAHHH BUDDDDY! Let's take a breather. Of course graduations are filled with their fair share of innovative thoughts and big dreams. All that pomp and circumstance. But even though this may sound a little dreary, let's pump a little dosage of reality into our commencement celebration.
Graduates, take a look into the hard look of your grandparents. See their eyes that can remember looking into the empty fridges and trials of the Great Depression. Now with your own eyes, look to the future and see the great economic woes that you must confront. During the ceremony, while you listen to the patriotic anthems as you look towards the American flag, think of the red, white, and blue colors that don't fade. Reflect upon the two wars in Afghanistan and Iraq and our challenges abroad. As you look at your teachers and professors, realize that as the baby boomers begin their retirement, a new fleet of academia must be ready to take the reins of educating our youth. And as you hug your parents, realize that soon (if not already), there will come the day when your re-enacting this event. But this time, instead of holding the diploma, you will be mommy or daddy holding the camera and beaming with pride.
So yes graduates, this is your time to celebrate. But this is also your call to action. Sadly, the celebration must be quick. Because the world isn't going to wait for you, and the clock is moving fast.
Congrats, again. But most importantly, GOOD LUCK. Because you're going to need it. We all do.
As always, this is the voice of many, the voice of none, the voice of one. This is The Voice.